Amazon and Meta have partnered to link Facebook and Instagram accounts with Amazon, enable on-platform commerce, and share data for ad targeting.
Previously, ads on Facebook and Instagram would link to the product page on Amazon's mobile website, where the user could look at pricing and reviews and ultimately checkout by logging in to their Amazon account. Now, when a user clicks on an Amazon ad on Facebook or Instagram, they'll be shown a stripped-down version of the Amazon product page with a prominent "Buy with Amazon" button. That means fewer clicks before a purchase.
This account linking and the new shopping experience is voluntary.
"For a more seamless shopping experience from an ad on Facebook and Instagram, you can choose to link your Meta and Amazon accounts. This opt-in experience will allow you to see real-time pricing, Prime eligibility, delivery estimates and product details on select Amazon product ads in Facebook and Instagram. You can check out with Amazon without leaving Facebook or Instagram, and experience more relevant ads," reads a help page on Facebook.
Neither Amazon nor Meta (the parent company of Facebook and Instagram) have announced the partnership yet. However, the experience is already available to some users in the U.S. Maurice Rahmey, Co-Founder and Co-CEO at Disruptive Digital, shared the new shopping experience on LinkedIn.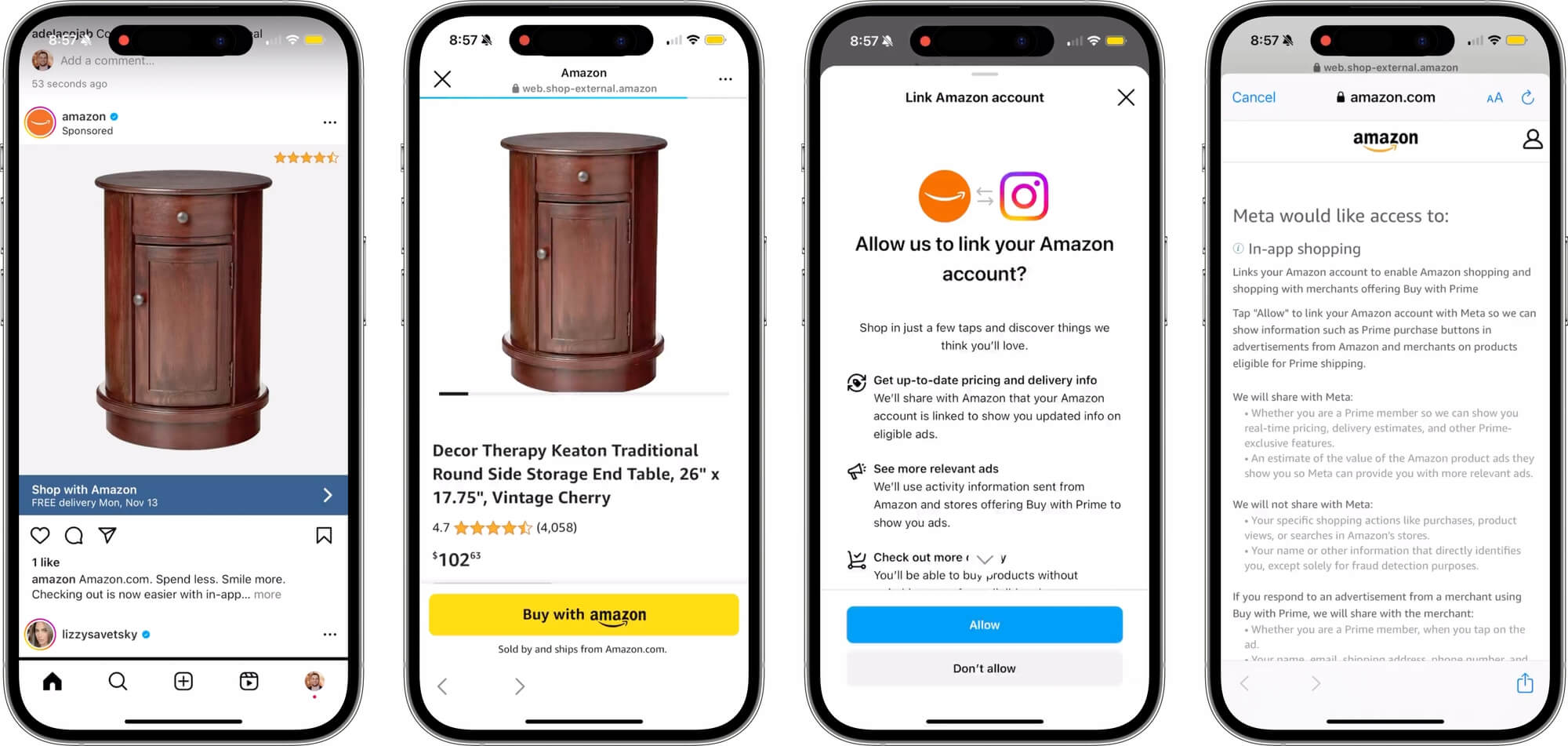 Facebook, Instagram, and TikTok are making forceful moves to stop directing people to external e-commerce websites to complete a purchase. TikTok is busy building its own marketplace, TikTok Shop. In April, Facebook announced that Shops on Facebook and Instagram would be required to use Facebook's checkout, thus ending support for Shops that direct people to an e-commerce website to complete a purchase. This new partnership with Amazon is closer to the Shops experience without having to try to force Amazon to join Shops.
Social networks and shopping apps are often silos that, while ultimately benefiting from each other, primarily work through ads. They optimize for their own benefit in the dimensions of data, tracking, user experience, and revenue. Amazon partnering with Facebook and Instagram is thus unheard of.
Shoppers get more relevant ads and a faster checkout experience, Amazon gets more shopping volume because ads are converting better, and Facebook gets more ad spending from Amazon and builds towards social commerce. Nevertheless, data is the critical piece of the partnership because as data privacy changes move to limit what can be captured, Meta and Amazon are working together to retain some of that.
Subscribe to our email newsletter to get the latest posts delivered right to your email.