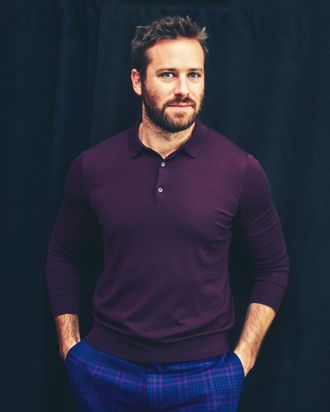 Photo: Vera Anderson/WireImage/Getty.Images
Well, well, well, if it isn't disgraced actor Armie Hammer lifting weights in an abandoned basement. Unfortunately for us all, this is the image Mr. Hammer chose to announce his return to Instagram, nearly three years after several women came forward accusing him of abuse, rape, and violent sexual fantasies.
A brief refresher: In early 2021, shortly after news of Hammer's divorce from actress Elizabeth Chambers emerged, multiple women came forward accusing him of violent behavior. After multiple screenshots allegedly showed him detailing sexual fantasies about cannibalism and rape, two of his exes claimed he manipulated and psychologically abused them, followed by a woman named Effie who claimed that Hammer had raped her in 2017.
Through an attorney, Hammer denied all the allegations, describing his sexual encounters as consensual, and earlier this year the LAPD declined to charge him for the alleged rape, citing "insufficient evidence." Meanwhile, Hammer retreated to the Cayman Islands and spent the intervening years going to rehab and possibly but probably not moonlighting as a time-share salesman. He was largely silent on social media until May, when he responded to the news that he wouldn't be charged for rape in a since-deleted post thanking the district attorney for "conducting a thorough investigation and coming to the conclusion that I have stood by this entire time, that no crime was committed."
That post appears to have been deleted, and the only two tiles on Hammer's newly wiped account offer a sense of what he's up to these days: watching movies on the Metro-North, sprinting into the Pacific Ocean, and doing the aforementioned subterranean workout sesh. If one of his captions is to be believed, he has also returned to L.A., though it's not clear how long he plans on staying. Can't say I'm looking forward to learning what he's up to next.
Subscribe to our email newsletter to get the latest posts delivered right to your email.