Meta's answer to Twitter, a new app called Threads, will launch on Thursday, just as users of the platform owned by Elon Musk seek out alternatives in droves.
The Threads app, which is linked to Instagram, appeared in the Apple app store on Tuesday ahead of Thursday's launch. Meta has launched a countdown website for the release.
A preview of the "text-based conversation" app says Threads will be a place "where communities come together to discuss everything from the topics you care about today to what'll be trending tomorrow".
"Whatever it is you're interested in, you can follow and connect directly with your favorite creators and others who love the same things – or build a loyal following of your own to share your ideas, opinions and creativity with the world," the promotional text says.
Screenshots suggest people will be able to use their Instagram handle to log in to Threads and follow their existing contacts. The app appears to share a similar user interface to Twitter, with similar features including reposting, liking and allowing users to limit who can reply to posts.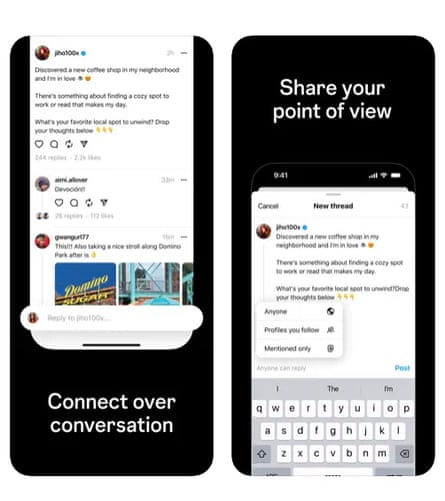 Threads is aptly named for a Twitter rival, but it was originally the name of a 2019 app Meta launched to compete with the youth-focused messaging app Snapchat. The product was later abandoned but Meta retained the branding.
A spokesperson for Meta said the company had no comment on the planned launch.
Meta will join a growing field of platforms, including BlueSky and Mastodon, competing to replace Twitter since Musk took over late last year and the site became more difficult for its estimated 250 million users to access.
Last week, Twitter began requiring users to log in to view the site – previously, people without Twitter profiles could view tweets. It then imposed a limit on the vast majority of users who do not pay for the platform, restricting unverified accounts to viewing 600 tweets a day, later upped to 1,000.
On Tuesday, the company announced it would make its list-based Tweetdeck product – used mostly by businesses and news organisations – accessible only to users paying for Twitter Blue.
Musk's moderation decisions, including lifting bans on far-right accounts, and the site's increasing instability has been a turn-off for advertisers, who have paused or reduced spending in the past few months.
BlueSky had to momentarily pause new sign-ups – currently only available by invitation – to cope with demand after the rate limit change was implemented.
Meta's chief product officer, Chris Cox, said during a company-wide meeting there had been demand for a Twitter alternative "from creators and public figures who are interested in having a platform that is sanely run", according to The Verge.
One factor that may give users pause before signing up to Meta's Twitter replacement is privacy.
Jack Dorsey, Twitter's co-founder who is currently working on BlueSky, tweeted a screenshot of Threads' app privacy information, along with the caption "All your Threads are belong to us".
The Threads app can collect data related to your health, financial information, contact information, browsing history, location and purchases, among other things.
For comparison, BlueSky may link contact information, user content and identifiers. Twitter says it can track users via purchases, contact information, location, contacts and browsing history.
Twitter no longer has a press department. Questions sent to the former email address received a poop emoji as the auto-response.
Subscribe to our email newsletter to get the latest posts delivered right to your email.