Michelle Pfeiffer, 65, shared an unrecognizable, no-makeup selfie with her puppy on Instagram this week.
The actress prides herself on using "clean" beauty products when she's not at photoshoots.

She also follows a vegan diet.

---
She's not name-dropped in "Uptown Funk" for nothing!
Michelle Pfeiffer, 65, was absolutely radiant in her latest no-makeup Instagram selfie. The Ant Man star was nearly unrecognizable, and held up her adorable new puppy, Dot, in the frame.
"How could this Angel have chewed a hole in my shirt?" Michelle wrote in her caption. The star wore glasses and a plain white T-shirt with a small hole in the sleeve. The hole-maker seemed unfazed, and looked like she was sleeping in the actress's arms. Aww. You could never hold a grudge against such a cute pup!
Michelle's followers loved the slice of life post, and the star's selfie. "Beautiful, Beautiful, Beautiful Michelle 💕," one fan wrote. "Aww too cute 🥰," another fan wrote. And obviously, lots of "❤️" were thrown in Michelle's direction.
If you were wondering how Michelle's skin stays so flawless—she takes her skincare routine very seriously. In fact, she scans ingredients on nearly everything she puts in or on her body, which she started doing once she had children.
"You begin to look at the world through the eyes of your children, and you just want to protect them—so you start looking at health in a preventive way," she said in an interview with Oprah Daily.
She mostly uses Sodashi products for skin care, and loves the Well People Expressionist Volumizing Mascara. Michelle's "clean" beauty philosophy also extends to her diet. She went vegan to avoid any "excess of toxins" in her body.
This content is imported from poll. You may be able to find the same content in another format, or you may be able to find more information, at their web site.
"I really noticed a difference in my skin not too long after switching to fully vegan," she told Urbanette. I'm happy this works for Michelle, but vegan might not be the healthiest choice for everyone.
Go off, Michelle! Keep doing you, queen.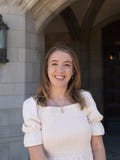 News Editorial Assistant
Olivia Evans (she/her) is an editorial assistant at Women's Health. Her work has previously appeared in The Cut and Teen Vogue. She loves covering topics where culture and wellness intersect. In her free time, she enjoys cooking, running, and watching rom-coms. 
Subscribe to our email newsletter to get the latest posts delivered right to your email.