If you've poked around Meta Ads Manager recently, you may have noticed that something is conspicuously missing: The Inspect Tool.
It's a magnifying glass icon on the right side of the screen. Here's what it looked like at one time…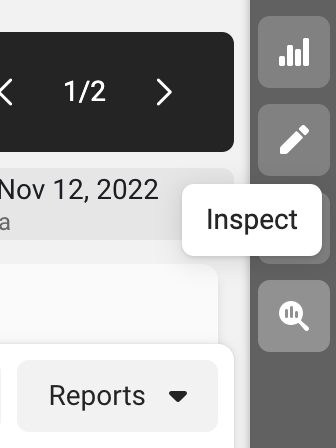 And now…

Gone. The "Clock" icon is for significant edits, which was previously part of the Inspect Tool.
If you do a Google search of the tool, it seems as though it's been scrubbed from the Help Center. It's as if it never existed.
If you aren't familiar with the Inspect Tool, it featured some special metrics and charts specific to your ad set. They weren't available for all objectivesThe campaign objective is the ultimate goal for your Facebook ad. Your selection will impact options, including optimization and delivery. More, but they were enlightening and extremely helpful.
Here are some of the valuable features that are currently missing…
Overview

The top of the Inspect Tool provided a snapshot of all of the important stuff. You could select multiple metrics at once to see them tracked over time. Some of these metrics were specific to your ad set's optimizationHow you optimize impacts who sees your Facebook ad. Facebook will show your ad to people most likely to perform your desired action. More, but you could also view things like AuctionFacebook uses an ad auction to determine the best ad to show to a person at a given point in time. The winner of the auction is the ad with the highest total value, based on bid, estimated action rates, and ad quality. More Overlap and First Time Impression Ratio here.
This visual to see multiple metrics charted over time was so helpful to spot trends and causes to problems.
Auction Competition

Your costs may be impacted by Auction Competition if there are more advertisers than normal attempting to reachReach measures the number of Accounts Center accounts (formerly users) that saw your ads at least once. You can have one account reached with multiple impressions. More the same audienceThis is the group of people who can potentially see your ads. You help influence this by adjusting age, gender, location, detailed targeting (interests and behaviors), custom audiences, and more. More you are trying to reach.
Generally, you'd want Auction Competition to be below average, average (0), or under 20 percent. This would indicate that the Auction Competition isn't significantly higher than normal.
Seeing this was super helpful!
Audience Saturation

Have you exhausted your audience? You could see this with the help of four metrics under Audience Saturation, two of which were unique to the Inspect Tool.
We're all familiar with FrequencyCalculated as (Impressions/Reach), Frequency is a Facebook ads metric that measures the average number of times users have seen your ad. More. What was nice is that we could see Frequency charted over time against your CPA.
First Time Impression Ratio measured just that — the percentage of impressionsImpressions are the number of times your ads were displayed to your target audience. Impressions aren't counted if it is detected they came from bots. More on a day-to-day basis which represented the first time the targeted user saw your ad. This will obviously drop over time. But you could chart it against CPA to spot whether the two are related.
Reach, like Frequency, is a common metric. But we don't often get to see it like this. As you saturate your audience, your Reach should start flattening out. Does it result in an increase in CPA? You could visualize this here.
And finally, we had access to Audience Reached Ratio. This was the percentage of the overall pool of people in your targeted audience whom you had reached so far. It will increase over time, but has the audience been tapped out? You could see that here.
Auction Overlap

Auction Overlap can happen when you're running multiple ad setsAn ad set is a Facebook ads grouping where settings like targeting, scheduling, optimization, and placement are determined. More that have the potential of reaching the same people. Auction Overlap prevents you from competing against yourself, but it results in some ads entering the auction less frequently.
Auction Overlap can lead to increased costs and lack of distribution. This section could provide a visual to help you determine whether it was an actual issue.
Now What?
This has been an absolute mystery. The information found within the Inspect Tool is valuable. And based on messages I've received the past couple of weeks, I'm not the only one wondering what happened.
Will these metrics move? If so, to where? If they've already moved, I haven't found them. Meta has said nothing. And I haven't seen any report of them showing up somewhere else.
Are some of these metrics no longer valid? Maybe. For example, might the expansion tools (Advantage Lookalikes, Advantage Detailed Targeting, and Advantage Custom Audience) may make the Audience Saturation metrics unusable since there isn't an established audience with upper and lower barriers of saturation. But couldn't this still be made available when expansion tools are off?
If you've heard anything on this, please let me know!
Watch Video
I recorded a quick video on this, too! You can watch it below…
Your Turn
Did you use the Inspect Tool? Have you heard anything about what happened?
Let me know in the comments below!
Subscribe to our email newsletter to get the latest posts delivered right to your email.